How To Succeed In Madden NFL 18 Longshot Story Mode
fifa15-coin
Date: May/19/18 14:29:52
Views: 2345
Madden NFL 18's Longshot story mode has received rave reviews ever since its release in August last year. So the purpose of this guide is for you to enjoy better in Longshot story mode. Here's a look at the top tips for players who want to take on the role of quarterback Devin Wade. Let's dive into this guide.
1. Be Prepared Not to Play Much Football
Madden NFL 18 is an American football simulation. It is to NFL what FIFA is to soccer, NHL is to ice hockey, and NBA is to basketball in the EA series of games. However, when it comes to Longshot story mode it is more about the drama and the choices players make.
The aim is to get Wade drafted and kick start his professional NFL career. It will require time, patience, and enduring scene after scene of dialogue. Somewhere in there you will play some football but the extra depth to this mode means there is so much more going on. Be prepared to be starved of your football action as the plot unfolds.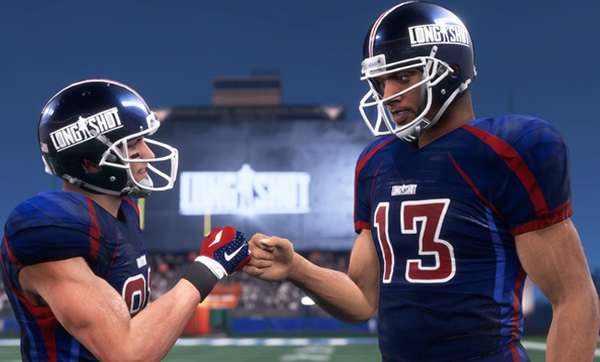 2. Change the Play
The credits introducing the mode will have barely left the screen when you first see a young Wade playing in the yard with his friend, Colt, and his father. You will have the choice to change the play or keep the play when messing about with the football in the garden.
It might not necessarily have a great impact on the eventual outcome but it does let the game know you're willing to mix things up and interact with the game's options from the very start. Essentially, it shows the game you're a maverick.
3. Keep Your Friends Close
There is a scene when a young and reckless Wade has stopped off in the truck with his mate Colt Cruise in order for Colt to relieve himself. The game gives you the option to prank Colt or show mercy on him. It makes sense to keep relations with Colt solid by refusing the opportunity to prank him.
Rubbing Colt up the wrong way at this early stage could cause problems further down the line.
4. No Distractions
Unfortunately, at some point, you do have to go against what is best for yours and Colt's friendship. Short term pain is a long term gain. Colt will ask you to take a photo on his phone en route to the NFL Regional Combine. As much as it will frustrate or even annoy Colt, you have to dig your heels in and refuse that photo. If you take it then you will be late for the Combine and that is a disaster in Longshot.
5. Combine Calamity
The Combine itself is a section of Longshot where there are a number of potential pitfalls. Whether it's Colt speaking during the scout's introductory speech or Colt looking for encouragement during the game. You need to be aware of what the right choices are and when. Colt needs to be shut down during the speech. The last thing you want is to irritate the head scout by being disruptive during his address. Then during the game, you need to encourage Colt. It will boost his confidence and keep things smooth.
6. Ignorance is Bliss
During the Combine you will come across the villain of the Longshot mode in Mario. He will be doing everything he can to put you off your game. It might be very tempting to bite back and dish out some insults of your own but resist. This guy is not worth the hassle.
7. Don't Tolerate Ross Fountain
In any sport, there will always be those individuals that look to manipulate people and take advantage of other people's success. In Longshot, that person is TV producer Ross Fountain. At the Combine, he will approach you and, along with co-producer Julia Vasco, offer you a place on the Longshot reality TV show that follows NFL hopefuls as they attempt to get drafted into the league.
Ross might make out that you need him more than he needs you but that's not how it is. As the Longshot mode continues, you will soon find that Ross is certainly the one who needs you more. Don't put up with his crap. Ignore it where you can but don't buckle under his attempts to bully you.
8. Honesty is the Best Policy
In the interviews that take place across the game it is important to be open and honest. Even the little details like giving credit to Captain McCarthy for helping you re-discover your love for football. It all counts. The topic of Wade's father's death will crop up a lot. You can either use it as an excuse to act erratically for some added drama or react with maturity and poise. The latter will guarantee a draft place.
Ok, good luck! While enjoying the game, don't forget to check if you have enough NFL 18 coins.